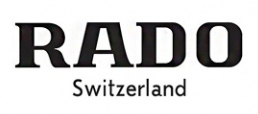 pioneer and leader in high-tech materials and design.
Rado, a globally recognised Swiss watch brand that traces its roots to 1917, is famous for its innovative design and visionary use of revolutionary materials to
create some of the world's most durable watches. Ever since its beginnings in Lengnau, Switzerland, Rado has had a pioneering spirit, with the brand philosophy
"if we can imagine it, we can make it" still holding true today.
Only the best materials are approved to produce Rado watches. Hardness and scratch-resistance alone are not enough:
durability and wearer comfort are just as important.
Key milestones in Rado's impressive history include the iconic scratch-resistant watch launched in 1962, pioneering high-tech ceramic in watchmaking in the 1980s,
the monobloc injected ceramic case, and the introduction of touch technology in a ceramic watch. The brand also pioneered the use of plasma high-tech ceramic.
Its unique approach to industrial design has been recognised with more than 30 international design prizes.
Iconic style and substance are the cornerstones of the brand as Rado continues to assert its mastery of materials to create beautiful
and eye-catching watches that will stand the test of time. Nothing gets in the way of Rado's mission to discover, invent and innovate in watches –
we can truly say that "Time is the essence we are made of".
Website: www.rado.com